Scott Loring Trophy - 2012
Tom Proulx

, editor of the CBA newsletter Kibizter, snagged the top honors at the recent CBA tournament held in Greenwich on August 17, 18, 19. Tom won the huge trophy, pictured, for capturing the most points for the tournament awarded to B players.

Tom scored above 60% at each session of the Friday game playing with Robert Hartman, CEO of the ACBL, who was visiting the Connecticut Sectional over the weekend. Robert, pictured, played both sessions with Tom handily beating the field.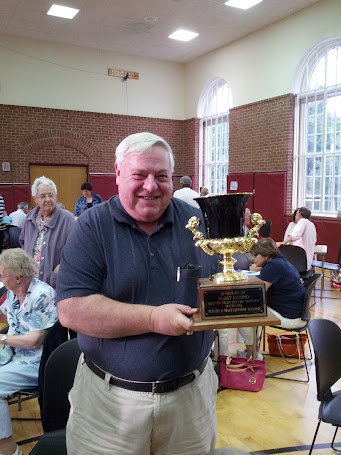 The Scott Loring Trophy was first given in 2005 and the previous winners are:
2011 Linda Green
2010 Russell Friedman
2009 Linda Green
2008 Brian Lewis
2007 Zachary Gidwitz and Alex Dezieck
2006 Jonathan Fieldman
2005 Lynn Condon
The beautiful Scott Loring trophy was donated by Harold Feldheim. Scott Loring was a director, bridge teacher, past president of the CBA, representative to the Board of the New England District 25 and Editor of the Bridge Daily Bulletin produced at regional tournaments. He was a Gold Life Master and active in all phases of bridge at all levels. He was especially dedicated to promoting and encouraging bridge among new players. An award given to a B player in his honor is entirely appropriate and consistent with his legacy.